Action Express swap their usual four wheels for two in charity cycle ride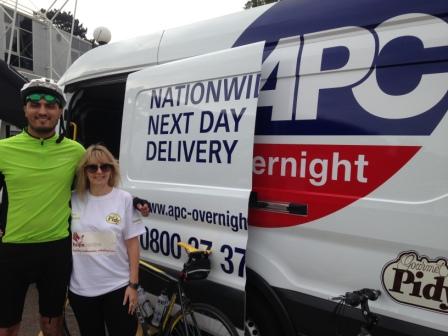 ​Action Express, part of the APC Overnight network are swapping their usual four wheels for two as their team embark on an incredible cycling journey from Northampton to Belgium in aid of The Hope Centre, a non-profit organisation that work to relieve poverty and tackle the causes of homelessness in Northampton.
The team at Action Express will be travelling more than 300 miles in four days to raise thousands of pounds for the Northampton homeless charity. Nick Kanani, Customer Service Supervisor of Action Express is participating alongside 30 cyclists that are heading to Ypres in Belgium.
Elaine Harries, Managing Director of Action Express, will be driving an APC sprinter van as the main support vehicle for the cyclists. The van will carry vital essentials for the cyclists and Elaine will also be riding alongside to provide support and encouragement from time to time. Elaine added: "Following the success of the trip last year there was never any question of us not being involved this year. The Hope Centre is a marvellous charity and it's important that as a local business based on the estate we support each other. I am really looking forward to joining the team on the trip this year."
Syd Ziaullah, Chairman of Action Express, is also travelling to Belgium with the team and will be driving an 18 tonne lorry across to Ypres to collect the bicycles and return them back to the cyclists in Northampton on Monday evening.
Well done to all the team at Action Express for their fantastic support for such a great cause!
To find out more about the Ride for Hope event, visit http://www.northamptonhopecentre.org.uk/events/ride-hope-september-2016 or to donate to the charity, visit Nick's JustGiving page http://www.justgiving.com/fundraising/nick-kanani
For media enquiries please email apc-team@schonandco.com.