Alba Trees continues to flourish in the Scottish sunshine, supplying trees to grow the UK's woodland
Alba Trees is one of the leading suppliers of cell-grown trees in the UK. Based in East Lothian, near Edinburgh in Scotland, the business specialises in forestry trees for native woodland creation and timber production. Through its largest customer – The Woodland Trust – native trees are sent all over the UK, including into forests, conservation areas, schools and community groups such as the Scouts.
Over the past three and a half decades, Alba Trees has flourished into the leading business it is today. The business chose the area east of Edinburgh to plant the nursery in 1988 as it boasted the highest number of sunshine hours in Scotland to grow healthy trees, whilst exposing them to harsh Scottish winters - ensuring the trees are hardy and strong for woodland planting. At the start, Alba Trees had 40 employees, before growing into a 120-strong team to deal with increasing customer interest and demand for the business' extensive collection of Trees and Shrubs. The team now grows and distributes a huge 24 million trees a year.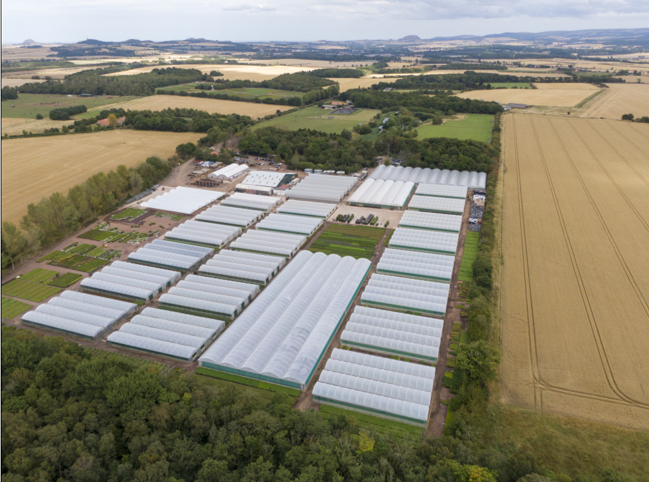 Handling with care, from roots to door

Similarly, to other plants, tree delivery is complex. Time is of the essence to keep the trees in the best possible condition, so working with a reliable parcel delivery partner that can make sure it meets the transit times, scale-up during peak times, and carefully handle a range of packaging and sizes is vital. Alba Trees' products are packaged in standard wax coated boxes and need to be handled with care, but it is the other product lines, such as bamboo canes, which provide even more of a challenge as they require specialist services, such as The APC's fragile and non-conveyable services, designed especially to suit these types of products.
Alba Trees has been working with APC Edinburgh for nearly two years, since Autumn 2021. A big draw for Alba Trees in forming its relationship with The APC, was the network's ability to carefully handle its wide range of packages and deliver across England, Scotland and Wales, whilst offering localised customer service.
APC Edinburgh supports Alba Trees with its largest customer, The Woodland Trust. Given the volumes and importance of the partnership, Alba Trees needs to ensure that the delivery is made with care and on time, and if problems arise, they need to know about them and have the ability to track online when needed. Having a trustworthy and transparent delivery service is crucial to their business.
Jackie Watson, Sales Executive at Alba Trees says; "Working with The APC has helped our business to flourish over the past couple of years. With a product like trees, you can't take any risks, so having a reliable delivery service was top of our priority list. I love that I can pick up the phone to a dedicated team in Edinburgh and work through any issues together if they arise. I also appreciate the adaptability of the team - sometimes we need to change the size of the vehicles we use and need a larger van for example. The APC always makes it work and helps us when it matters most."
Find out more about Alba Trees here.
For media enquiries please email apc-team@schonandco.com.