APC Overnight wins treble at the National Courier Awards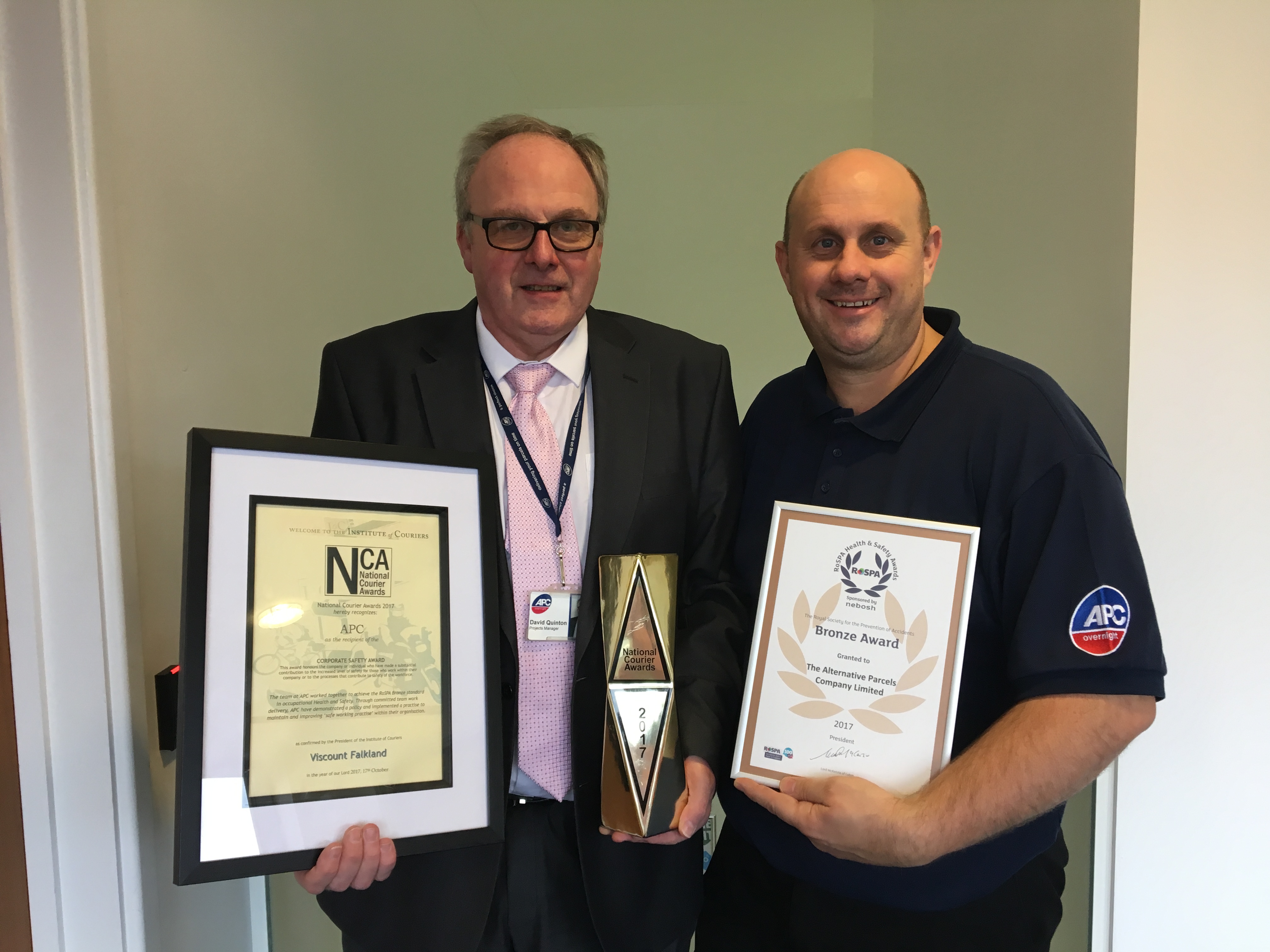 David Quinton, Projects Manager and Marc Oliver, Assistant Health, Safety and Environment Manager
APC Overnight has won three awards at the 21st Annual National Courier Awards. The awards, held by the Institute of Couriers, celebrate excellence across a wide range of courier services. The 2017 winners were announced at the ceremony in London.
APC Overnight won the 2017 Corporate Safety Award; Point to Point couriers, part of the APC network, won the 2017 Presidential Award for Community Spirit and Lee Thomas from Swift Despatch, also part of the APC network, took home the NCA Contract Award. The awards recognised 27 teams and individuals in total for their commitment to the courier industry.
The prestigious 2017 Corporate Safety Award was presented to APC Overnight and acknowledged the network's dedication to rolling out safety procedures as standard practice across its UK transport fleet.
The award comes in addition to the Bronze RoSPA accreditation APC Overnight received in September for its health and safety excellence.
The second award was presented to Point to Point Couriers, part of the APC Overnight Network. The Park Royal based courier service was awarded the 'Presidential Award for Community Spirit' in recognition of the support they provided in the wake of the Grenfell Tragedy.
The entire Point to Point team worked with local support services to provide local residents with basic supplies in the immediate aftermath of the fire. The volunteers made collections all over London, sorting goods at the warehouse and re-distributing to the charity stations located around Grenfell Tower. In the following days, as news of the Grenfell Tower disaster spread, Point to Point Couriers opened up a free collection service for anyone wishing to donate food, clothes, toys and other goods to survivors.
The third award was presented to Lee Thomas from Swift Despatch, Liverpool. Lee has been a member of the Swift Despatch team for 12 years, during which time he has built himself a reputation as reliable, helpful and courteous. His great customer service is what led him to be nominated by CPL Training, a regular customer of his, who described him as an indispensable part of their team.
Jonathan Smith, Chief Executive of APC Overnight, said:
"We are extremely proud of the work we're doing both within our network and externally. Health and Safety is a vital pillar of the APC Overnight network, helping to ensure our staff's wellbeing. Equally valuable is the commitment our depots show to their local communities, and Point to Point is a brilliant example of this. For these efforts to have been recognised at the National Courier Awards is a great honour."
For media enquiries please email apc-team@schonandco.com.