Awards recognition for APC Drivers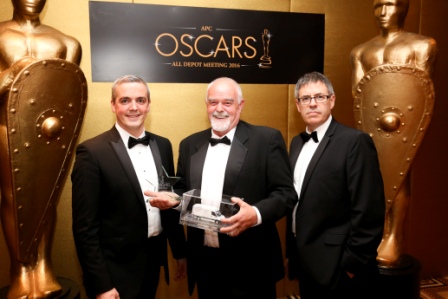 Congratulations to Clifford North from YDL and Mick Pursall from EDS Couriers, who have added to their trophy cabinet by recently taking home a 'Driver of the Year Award' at our annual All Depot Meeting awards.
The recognition comes just months after the pair each took home a title at the 2016 National Courier Awards, held at the Institute of Directors.
Clifford was crowed one of our an Drivers of the Year after he achieved a Four Wheels Award at the National Courier Awards for his commitment to training the younger generation and fantastic client feedback. Similarly, Mick who has previously won the Contract Van Driver Award after being described by one customer as "the most helpful driver we have ever had", was awarded an APC Overnight Driver of the Year award to further mark his achievement.
Jonathan Smith our CEO said: "Our drivers are vital to our business and consistently deliver high customer satisfaction levels – alongside thousands of parcels. Clifford's and Mick's award wins at the National Courier Awards were a source of great pride for both their individual depots and the network as a whole, so we felt it was right to further celebrate them as part of our internal awards. On behalf of everyone at APC Overnight I congratulate them both for everything they have achieved so far."
For media enquiries please email apc-team@schonandco.com.