Bath Businesses Exporting Sicilian Produce Across the UK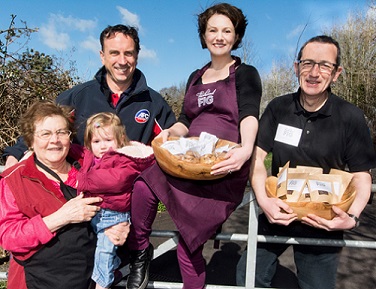 Lucy Tarallo-Fox, whose family has been living and working in Bath for more than 50 years, has teamed up with Frome-based Bath Logistics to deliver her unique range of Sicilian delicacies across the UK. Lucy's family-run business, Tickled Fig, which is managed in partnership with her grandmother Rosa and her father Giuseppe, was originally launched in October 2013. However, following the birth of Lucy's daughter Rafaella and with the business in need of a delivery partner it was initially run as a small concern, selling just a few items a month. That changed in late 2014 when the online delicatessen contacted local courier Bath Logistics. Since then, the two companies have shipped more than 3,000 Sicilian pastries, 250 kilos of pasta and over 1,000 slices of prosciutto to locations as far afield as the north of Scotland.
Lucy said: "We specialise in small delicate food items and with use by dates to take into account, we needed a company that would ensure our products arrive on time and in-tact."
Lucy contacted fellow South West entrepreneur and Small Business Excellence Award winner Heather Gorringe, who uses Bath Logistics sister company APC Hereford, both of which are independently run as part of the APC Overnight network.
Lucy continued: "Following Heather's recommendation I spoke to Bath Logistics and was pleased to find a local business that was able to provide the personal service and reliability I needed to ship our perishable produce across the UK."
According to Lucy, while Italian food and drink like pizza, pasta and cappuccinos are now readily available throughout the UK, Sicilian cuisine is often less understood.
She said: "Tickled Fig was set up in a bid to provide Sicilian ingredients and recipes that can help British families enjoy meals that are delicious, healthy and affordable. There are so many fantastic Sicilian flavours that people in the UK may not be aware of and thanks to our links to the island we're able to source ingredients that are unique to Sicily and the Mediterranean basin.
"As a result many of our foods carry the coveted PDO (Protected Designation of Origin) stamp, which means they cannot be produced anywhere else in the world and still be considered authentic, such as Parmigiano Reggiano, Balsamic Vinegar of Modena, Pecorino Romano and Marsala Cremovo."
As well as sourcing ingredients directly from Sicily, Tickled Fig will soon be launching a range of freshly prepared items including savoury pastries, desserts and confectionery.
These products are being unveiled on the company's website and at various foodie events in the South West over the coming months.
Further details on Tickled Fig can be found at www.tickledfig.co.uk