'Katie Victoria' takes to the road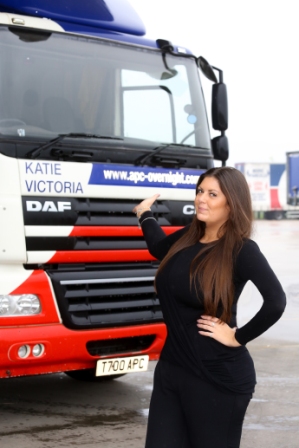 Katie Taylor, from Perton, Wolverhampton, has been crowned our 'Employee of the Year' at our All Depot Meeting annual awards ceremony for the influential role she plays as Acting Day Operations Manager at our National Sortation Centre in Cannock.
Despite stiff competition from 12 other nominees – all of which were named employee of month over the last year – Katie was able to take home the title due to her outstanding contribution. Her diligence, particularly while managing high numbers of warehouse employees during our busy Christmas period, showed her to be a dedicated employee worthy of recognition.
To mark her achievement we've named one of our 44 tonne articulated lorries after her. The vehicle, Katie Victoria, is already out on the road and delivering important parcels to APC Overnight's 115 depots nationwide.
After receiving the award at the prestigious black tie ceremony, Katie Taylor, said: "I really didn't expect to win the award so I am over the moon. It's strange to think that my name is going to be travelling up and down the country on a truck carrying parcels but I'm looking forward to spotting it if I'm out and about."
Jonathan Smith, our CEO added: "Katie is a shining example of the committed team we have here at APC Overnight. We realise that our reputation relies on every delivery and we are delighted to be able to recognise those employees that go the extra mile for the business."
For media enquiries please email apc-team@schonandco.com.