Local Delivery Firm Paw-ses for Thought to Support Local Animals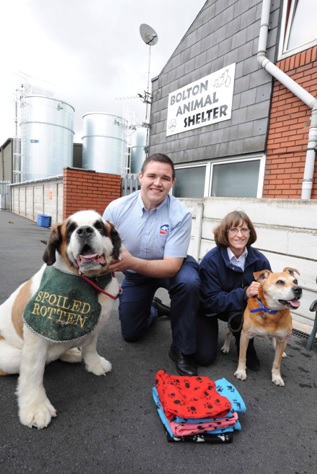 Since em'barking' on the partnership in March 2013, Nexday Overnite Ltd, part of the UK's largest independent parcel network, APC Overnight, has completed over 70 collections and deliveries, the majority of which have contained at least 30 blankets resulting from the generosity of the region's canine companions.
Employees at Nexday Overnite travel across a region encompassing Bolton, Wigan and Bury for the cause and the donations go straight to the Bolton Destitute Animal Shelter, which takes care of unwanted, lost and stray dogs and cats, while attempting to reunite pets with their owners, or find a new loving home.
Ian Fox, Director of Nexday Overnite Ltd, tells the tail: "There's 21 of us at the depot and we're all dog lovers, so we wanted to extend our enthusiasm to other animals in the area that aren't as fortunate.
"Through the partnership, we focus on what we're good at in terms of a speedy and reliable delivery service with our fleet of vans, which gives the care experts at the Sanctuary more time to focus on helping the animals without having to continuously carry out the collections."
Sue Cleary, Deputy Manager at Bolton Destitute Animal Shelter also commented: "The support we've received from Nexday Overnite has been invaluable and we are so pleased that can now keep our animals warm and comfortable all year round. We'd encourage anyone in the local community to let us know if they have any blankets or duvets they no longer need and we can arrange yet more collections."
For media enquiries please email apc-team@schonandco.com.