Member of The APC Delivery Network, Swift Despatch, invests in electric fleet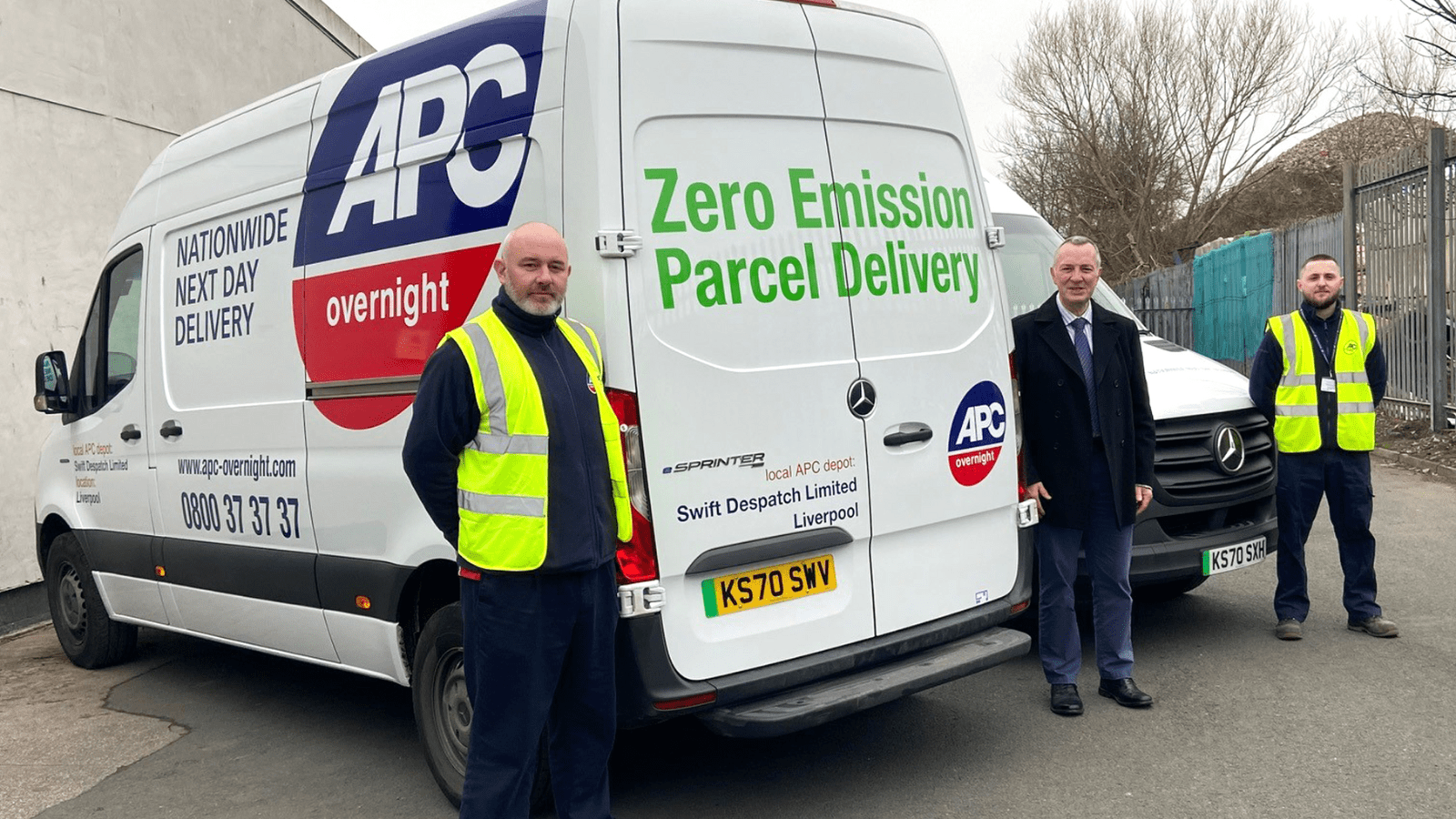 Swift Despatch, part of The APC delivery network - the largest independent parcel delivery network in the UK - has launched the first four electric vans in its fleet.
The launch of these electric vehicles (EVs) is part of the business' ongoing commitment to invest in the growth of its zero-emissions fleet, supporting longer-term Government initiatives to improve air quality across Merseyside and Cheshire, and help the city of Liverpool achieve its target of carbon neutrality by 2030.
As part of this commitment, Swift Despatch has also today announced plans to replace 30% of its existing fleet with EVs by the end of next year, demonstrating the business' determined and long-term strategic vision through these unprecedented times.
Mark Davies, Managing Director at Swift Despatch, said: "As a business we're in really good shape, and despite the challenges of the pandemic, the introduction of these electric vans into our fleet has always been part of our plans. We want to ensure our business is set up for long-term success; supporting our valued customers, as well as the region's zero emissions target.
Our customers are increasingly passionate about protecting the environment, but in recent months have had to focus on adapting their businesses, often accelerating their online presence to keep up with growing demand. We're committed to supporting their changing needs and their growth, providing them with improved service options to help them meet their ambitions and flourish in the years ahead. Our investment into EVs is just the start of this."
Across the region, Swift Despatch's top 20 customers achieved an average of 46% growth year-on-year. Among these customers, there has been a diverse range of sector growth seen locally - from food and drink, to electrical goods, and even party and catering supplies - as local SMEs have continued to adapt their business models to meet the changing demands and shopping habits of customers.
Mark Davies, continued: "We're proud to see that so many of our customers across the region have really demonstrated their resilience in the last year, with many of them taking advantage of the continued demand for e-commerce, and the nationwide coverage of The APC delivery network, to reach an ever expanding national customer base. As a local business that has been investing in the community for over 35 years, we want to contribute positively to local businesses as they continue to adapt and build for a post-pandemic future. We remain committed to really getting to know our customers and their needs, and doing the hard work when it comes to the delivery process, so they can concentrate on their own growth and success."
In order to support the significant growth of the business and its customers, Swift Despatch, which has an employed workforce of over 60 people, is currently recruiting for staff across several roles at its depot in Huyton, Merseyside.
Jonathan Smith, Chief Executive at APC Overnight, said: "Across The APC network we are still seeing high demand for delivery services and the strength of our SME customers continues to prevail as they respond to this and plan for the future. Shopping habits have changed, businesses have had to adapt, and in turn many continue to rely on carriers to get goods delivered.
Swift Despatch's continued success and plans for the future, is testament to the brilliant depot team who have worked so hard over the last 18 months. It's fantastic to see their ongoing efforts in the business and local community, both with the introduction of EVs to their fleet, as well as their drive to continually meet the increasing and changing logistics needs of their customers."
For media enquiries please email apc-team@schonandco.com.