Point to Point Couriers wins National 'Community Spirit' Award for supporting Grenfell victims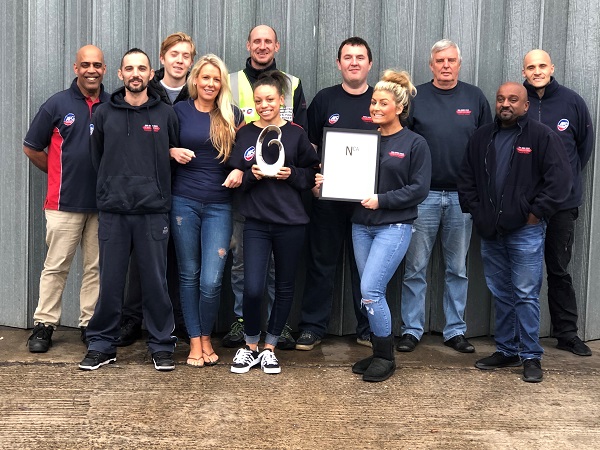 From left to right - Roy Arjun, Carlos Samoes, Charlie O'Connor, Charlotte Baverstock, Jason Smith, Louise McLeane, Martyn Hernon, Daniela Kola, Jimmy Mellon, Navin Sadanandan and James Sealy
Point to Point Couriers, part of the APC Overnight Network, has been awarded the 'Presidential Award for Community Spirit' at the Institute of Couriers' annual National Courier Awards. The Park Royal-based company received the accolade in recognition of the support they provided in the wake of the Grenfell Tragedy.
The entire Point to Point team worked with local support services to provide residents with basic supplies in the immediate aftermath of the fire. The volunteers made collections all over London, sorting goods at the warehouse and re-distributing to the charity stations located around Grenfell Tower. The drivers also helped out on arrival, carrying boxes and bags so that local volunteers didn't have to move the parcels again, and could instead focus on other areas of aid.
In the following days, as news of the Grenfell Tower disaster spread, Point to Point Couriers opened up a free collection service for anyone wishing to donate food, clothes, toys and other goods to survivors.
Point to Point collected its award last week at the Institute of Couriers' annual ceremony. In total, the awards recognised 27 teams and individuals for their commitment to the courier industry, whilst the Community Spirit Award focuses on teams or individuals who have acted selflessly, for the good of the wider community. The Institute of Couriers praised the "goliath team effort by Point to Point, for our sector in the community".
Kevin Grey, Managing Director of Point to Point, said: "I couldn't be prouder of my team. Their tireless work around the tragic events in June epitomised the community spirit that shone through across the region. I'd like to thank the Institute of Couriers for recognising the team's selfless contribution to the disaster relief efforts. Our customers and the APC network also deserve recognition for their invaluable support."
For media enquiries please email apc-team@schonandco.com.