The all female leadership team at APC Stevenage driving growth for local SMEs
A top 10 growth depot within The APC network, APC Stevenage, was taken on by Margo Lerin (non-executive Director), Debbie Wall (Commercial Director), and Davinia Harrison (Service Director) - an all female leadership team within The APC network - back in January 2020.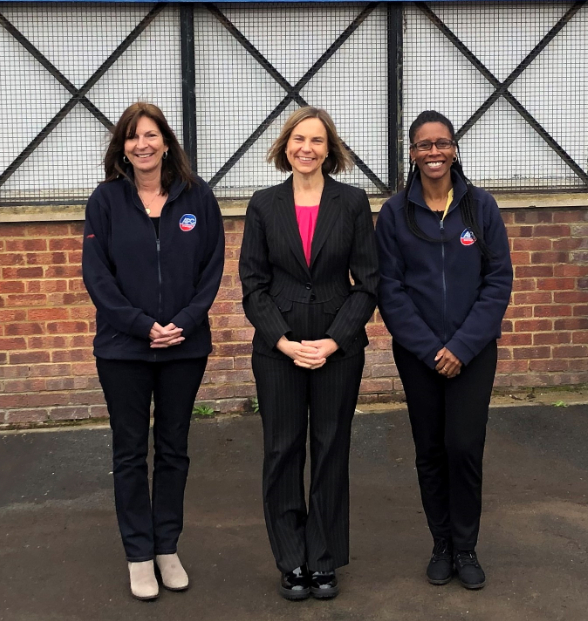 Despite the unforeseen turbulence of taking on a depot right at the start of a global pandemic, these women worked hard to successfully win the trust of local SMEs thanks to their engaging management style and commitment to always serving local customer needs.
An opportunity to support the local community we know and love through times of change Margo, Debbie and Davinia, were working together at another APC depot when the opportunity arose to run the depot servicing the SG postcodes.
Debbie Wall was still relatively new to the logistics industry when they took on APC Stevenage, having only joined the industry in 2018. But from the start Debbie saw the potential to apply her past career experience, with her love and knowledge of the local area, to really make a difference to the community they serve.
She commented: "We saw a massive opportunity to expand the depot using our in-depth knowledge of the local area and love of local SMEs - after all, we're a local SME too! We really saw the potential of the range of fantastic SMEs based across the region and have worked hard from day one to build relationships in the way we have. Customer service is really strong and across the team we're committed to understanding our customers and working closely with them. We communicate clearly and often, and that is what customers really appreciate."
That commitment and effort paid off, as within two months, APC Stevenage saw a 47% growth in the numbers of consignments compared to the previous February, and also moved into new premises that were double the size.
Debbie continued: "Local businesses chose us - despite other couriers providing services in the area - because of our customer service, understanding of their needs and ability to adapt with them. This was so important to local SMEs, especially in the times of change they have experienced over the last couple of years. For instance, one of our clients is a small beer retailer that closes on Mondays but still needs to send parcels. To make life easier for their team, we arrange a specific timed collection slot for them on Mondays, so that staff can just come in to despatch their parcels and avoid unnecessary waiting times."
Connecting with customers
Margo, Debbie and Davinia's first objective for themselves and their team when they took on the business was to connect with their customers and ensure every customer knew that they were supported and valued - as those SME businesses faced the most turbulent of times. Now, two years on, the team is proud that the strength of their relationships with local SMEs continues and is resulting in an increase in parcel volumes. Growth continues from both their existing customers and from new local SMEs who relate to working with a fellow SME team, driven by a common aim to provide the very best of service to customers.
The APC proudly champions women in logistics
Women still only account for 20% of the workforce across the UK logistics industry*, but the times are changing. Latest data from The APC shows that the representation of women in its workforce has increased four years running - from 23% in 2018, 24% in 2019, 26% in 2020 and 27% in 2021 - with many teams and management roles seeing a sharp increase in female employees. Within the executive team, The APC has a 50% female representation, whilst in the Day Operations team 55% of positions are held by women.
The APC has a strong record of retaining female talent once within the business, 32% of female workers have been with the business for over five years', and 7% have worked with the network for over 10 years. Across the business The APC has continued to review its processes and practices to ensure flexible working for all staff is well supported and promoted, whilst investing heavily in learning and talent initiatives to support career development across its workforce.
*According to WomeninTransport.com
For media enquiries please email apc-team@schonandco.com.