The APC receives RoSPA Silver Award for health and safety practices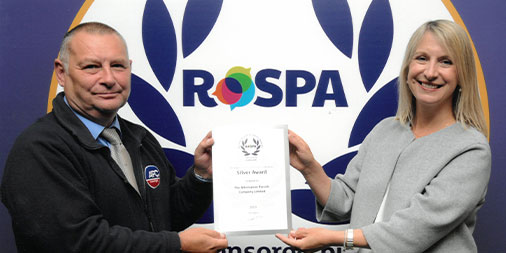 APC Overnight, the UK's largest independent delivery network, has received a prestigious Silver RoSPA award in recognition of its health and safety standards across The APC.
The APC has previously been recognised by the Royal Society for the Prevention of Accidents (RoSPA), having achieved a Bronze Award for two consecutive years.
The RoSPA Awards scheme, which receives entries from organisations around the world, recognises achievement in health and safety management systems, including practices such as leadership and workforce involvement. It is the longest running industry awards in the UK.
William Russell, Health, Safety and Environment Manager; Marc Oliver, Assistant Health, Safety and Environment Manager and Katie Taylor, Day Operations Manager attended the awarding ceremony at the Hilton Birmingham Metropole Hotel on Thursday 6th June 2019 to collect the award on behalf of The APC.
Jonathan Smith, CEO of The APC: "We're delighted to be recognised for our health and safety practices with the achievement of the Silver RoSPA award in quick succession to our previous bronze award. Our staff are committed to achieving the highest standards of safety possible. This award reflects our commitment to improving our health and safety standards and the importance of health and safety at The APC.
Julia Small, RoSPA's head of qualifications, awards and events, said: "The RoSPA Awards have become the key fixture in the health and safety calendar with new sponsors and new awards this year including the Leisure Safety Awards, the Safe@Work Safe@Home Award and the Inspiration Awards. Highly-respected, with almost 2,000 entrants every year, RoSPA award winners benefit from the wide-ranging rewards of improved sector reputation."