The APC staff celebrate a total of 240 years of service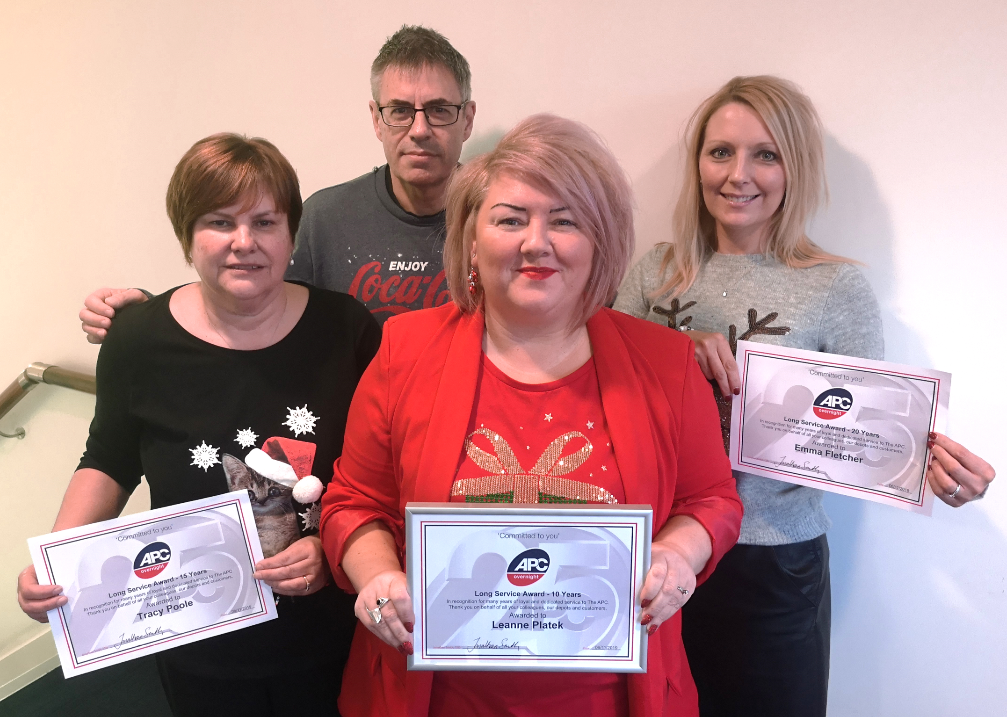 The APC, the UK's largest independent delivery network, has presented 19 staff from its Cannock depot with awards for their long service and dedication to the company. The employees – who encompass a variety of roles – have a combined total of 240 years at the 25 year-old company, with awards being presented for 10, 15 or 20 years' service.
Emma Fletcher, Head of HR at The APC, received an award for her 20 years of service. Emma started her career at The APC as an accounts admin straight after completing her Business Degree.
Emma then transitioned into HR and was the driving force in growing and developing the department to be a core pillar of the business. The APC also supported Emma through the funding of her Masters and Postgraduate degree in Human Resource Management.
Emma said: "Over the last 20 years, I have seen The APC grow from strength to strength. I have similarly developed during my time at the company – something I couldn't have done without my wonderful colleagues and the people-centred nature of the company. The APC has given me many opportunities to learn and progress, and I look forward to seeing the company and its people continue to thrive as we move into 2020 and beyond."
Jonathan Smith, Chief Executive at APC Overnight: "The family spirit of our employees has always been at the heart of our success. Investing in our staff is extremely important to us; we have our own dedicated training academy and actively promote apprenticeship opportunities to existing employees to support their development, encouraging every employee to thrive. It is important to us that staff at The APC are able to build long-term working relationships with their colleagues and customers.. Each of this year's recipients has had a tremendous impact upon The APC and absolutely deserves to be recognised."
For media enquiries please email apc-team@schonandco.com.