Awards
2023 ROSPA Silver Award
We're delighted to share that we've achieved a RoSPA Silver Award for our health and safety standards and practices at our sites in Cannock and Essington.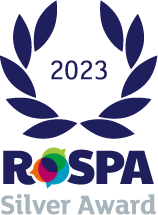 UKAS ISO Certifications
We've successfully obtained the UKAS ISO 14001, 9001, 45001 certifications through the accrediting body, Interface NRM.
UKAS ISO 14001 - is an internationally recognised standard for environmental management, allowing organisations to demonstrate their commitment to protecting the environment.
UKAS ISO 9001 – recognises an organisations ability to provide products and services that meet customer and regulatory requirements.
UKAS ISO 45001 - supports an organisation in implementing procedures and policies to achieve safe working conditions.
We'll never get complacent, though: our reputation relies on excellence in every delivery, every day. Read more about APC Overnight's awards on our news page.