COVID- 19 (Coronavirus Notice) - reviewed 17.01.2022
Service Update - w/c 10th January 2022
Due to the increase of COVID cases and associated isolation requirements, service delays are being experienced in some areas. We thank you for your patience as we work to recover service safely. The safety and welfare of all those involved in our network, and of our customers remains our priority.
The APC network is providing essential parcel collection and delivery services nationally on behalf of our SME customers. We are all committed to doing the very best we can in these difficult circumstances.
Our network of key workers are continuing to provide essential supply chain services, as outlined by the Department of Transport [click here to view letter]
We continue to focus on providing excellent service wherever possible, however recognise that the situation may have an impact on service levels.
Our brilliant drivers and depot teams appreciate your understanding and support. We continue to adopt the 'No Contact Delivery Practice' .
The safety and welfare of all those involved in our network, and of our customers, remains our priority.
Please view The APC Overnight COVID-19 Secure risk assessment
The APC Network-
Celebrating 25 Years of Delivery Excellence
We are the UK's largest parcel delivery network with over 100 independent, entrepreneurial delivery and collection specialists. We have been providing excellent service to our many SME customers since 1994.
Watch our video below which shares the experience of two member businesses of The APC Depot network - see what makes our network so unique
We offer timed and trackable next day delivery and specialise in fragile, security and liquid services.
Use the NEW APC PinPoint tracking facility to view the progress of your parcel journey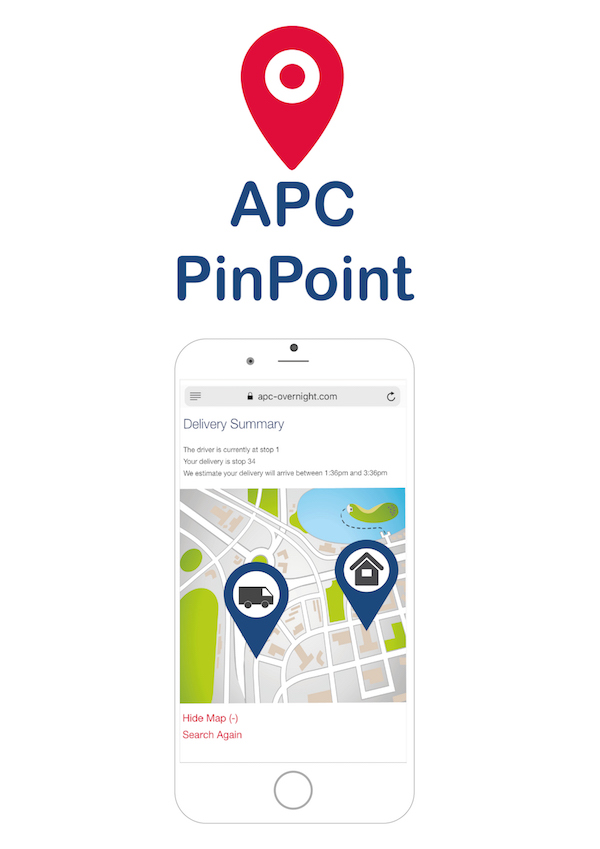 Simply visit our tracking page and enter your consignment number and delivery postcode, click to view the map and our regularly updated map will PinPoint the delivery driver's current stop and how close the driver is to the delivery destination.
Tracking just got better with APC.
Missed a delivery? No problem!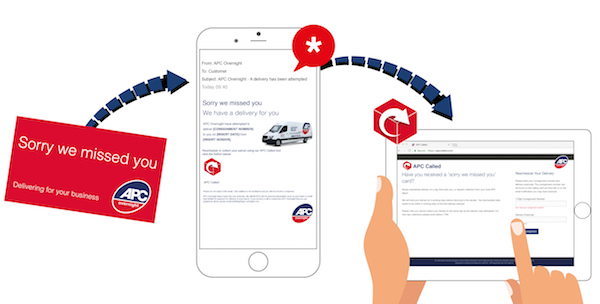 If you have received a 'Sorry we missed you' card or an email notification of an attempted delivery, use our APC Called tool to reschedule your delivery or arrange a collection from your local APC depot.
Rescheduling delivery just got easier with APC Called.
APC Expect - 2 hour pre alerts
To sign up to this great service, please contact your local APC depot.
Tweets
RT @courierlog: APC has the Specialist dedicated Services just for you. Get in touch with us today for more details how these can help you…
See all...
RT @TeamCExpLog: Sending a parcel? Read our top tips for packaging dos and don'ts and take a look at our branded Team C packaging - https:…
See all...